Save Your iPhone's Battery Life From Energy Draining Apps
Have you ever experienced that all of a sudden your iPhone's battery stops lasting for as long as it used to before? Then you do not need to get worried. This article provides you the one-stop solution to all your iPhone's battery issues. In this article, we are specifically focusing on preventing the applications, installed on your iPhone, from draining your battery.
Filter The Power Draining Apps
Now, if you have noticed that your iPhone's battery is discharging quickly than normal then one thing that you should check is whether the applications are causing this. Perhaps more important than that is learning how to prevent the apps from draining the battery. For that, first, you need to follow the following procedure:
Settings–>Battery
From here, you need to check which applications are using more of the battery in the last 24 hours. The list will show you the applications in order of their energy consumption. This way you will be able to identify the most power-consuming apps. Now the next decision you have to make is decide whether you can survive without those applications. After you have done that, you can either uninstall those apps or use them less frequently.
Battery Optimization & Background App Refresh
Another alternative is that you tap on Settings and select General then select Background App Refresh. Suppose you have installed WhatsApp application on your iPhone. Regardless of whether you've been using the app itself or not, whenever you get a notification, you will be notified that you have a new notification in your WhatsApp application. That is because the Background App Refresh is activated for WhatsApp.
If you don't enable background app refresh for the app, then you will not be notified of any incoming notification until you open the app. So, this means that with the Background App Refresh enabled for some apps, the apps will continue to run in the background to notify you for any notifications or updates.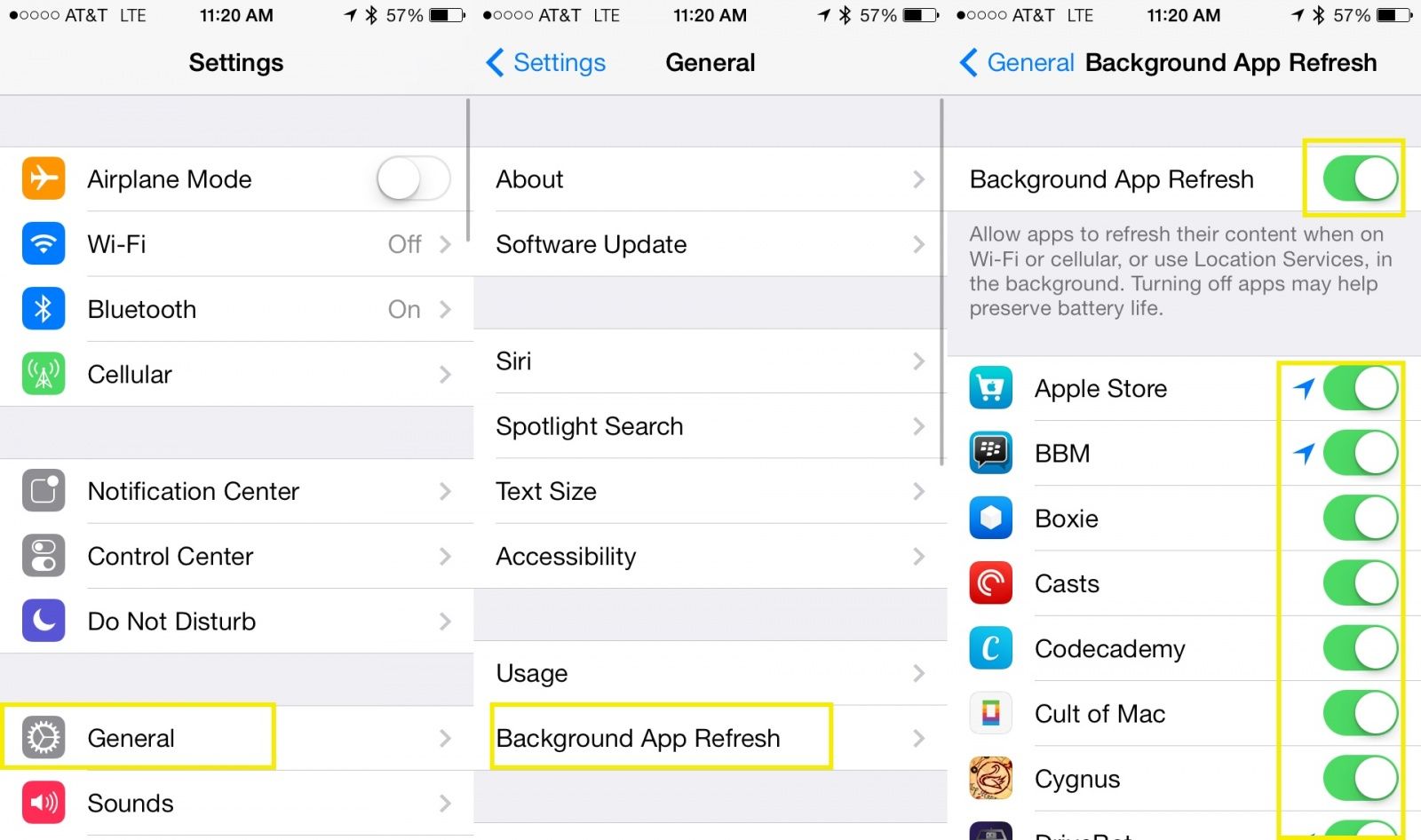 However, the downside of this is that regardless of whether you are using your phone or not, there will always be certain apps that will be using your battery and draining it. So, again you have to make a trade off here as well.
You have to decide on the apps you want the Background App Refresh feature enabled and the apps you do not. In case you do manage to jot down a list of apps that you want to deactivate the background App refresh feature, you just need to follow a simple procedure.
If you don't need an application to use the background app refresh function you can easily disable that application by tapping on the toggle and turning it off. Rest assured, this will help a lot in terms of prolonging the battery life of your iPhone.
Beware Of The GPS
That is not all, we are trying to provide you with as many alternatives to best facilitate you. Just follow this simple process:
Privacy–>Location Services
If you wish, you can entirely disable the location services for all the applications installed on your iPhone. Conversely, if you want only some applications to use the location services then you can select those apps.
Moreover, you can also select when those apps can use the location services. If you want you can use GPS either the next time you open the app or while using it.
We recommend to either use never or to use only while using the app. This means that whenever the app is not in use the location services for the application will be disabled.  In this way you will be able to conserve your iPhone's battery.
Time To Refresh
If you have not refreshed your iPhone for a long time then now is the time to do so. Come on, your iPhone has been through a lot. Let's give it a fresh restart. In order to do that, follow the below-mentioned procedure:
General–>Reset–>Reset All Settings
However, before you do that, here's a warning: do not do this if you do not know the password of the WiFi point you are using. Because once the phone is refreshed you will have to reconnect to the WiFi. If you do not know the password then that will be a big problem for you.
So, do not carry out this step before knowing the password of the WiFi access point you are using. Hopefully this will resolve your iPhone's battery issues.
That is it from us here at the Infinity Club. Hope this helps all of you. Stay tuned for further updates.
Also, read:
iOS 13 Dark Mode for iPhones: New Feature introduced by Apple
How to record your screen (Apps for Screen Recording) – Infinity Club
LG V60 ThinQ: Everything about the new device that, you need to know!